What will a 7500 watt Generator Run (+Wattage Breakdown)
If you are searching for a generator that can work around or power your entire home, then a 7500-watt generator might be the right choice.
After reading it, you will get enough understanding about how much a 7500-watt generator can run. But what will a 7500-watt generator run?
One of the best choices in portable power, a generator 7500 watt can run your whole home as well as various appliances during a blackout.
It also powers up to 40 extensive electric tools, making it ideal for job sites.
But how many devices and appliances can you use with this generator? Know it here.
Moreover, we'll also explore how will a 7500-watt generator run in all cases.
Let's not waste more time and dive into the detailed discussion of what can run on a 7500-watt generator.
Understanding wattage Science
A 7500-watt generator is usually a perfect pick for camping trips and home use.
A 7500-watt generator is perfect for running many of the basics in your home, including your refrigerator/freezer, microwave, toaster, coffee maker, and blender.
Furthermore, it is an ideal device to handle power outages in an emergency or on a remote Jobsite.
There are two numbers of wattage to check when evaluating how many appliances a 7500-watt generator can operate.
There are two types of wattage: operating and starting.
The operating wattage is the power necessary to keep the device running.
On the other hand, starting wattage helps devices give the start-up wattage.
What will a 7500-watt Generator Run in my Home?
Powering your home with a generator can be a great way to ensure that you always have electricity.
A generator can provide backup power in the event of a power outage, and it can be used to power up your home during a storm, hurricane, or another emergency.
A 7,500-watt generator is powerful enough to provide backup power for most homes.
If you're looking to buy a generator, there are a few things you should think about first.
First, you need to decide what size generator you need.
Another thing to consider is the type of fuel the generator uses.
Consider how loud the generator is while you're picking one.
Let's discuss more 7,500-watt generators and what they have to offer you.
Once you know how a 7,500-watt generator can power your home, you'll be able to decide if it's the right generator for your needs.
A 7,500-watt generator is an excellent option for powering your house since it can run a central air conditioner or heat pump.
Running this consumes a lot of electricity.
This requires continuous power ranging from 3,800 to 6,000 watts and an additional surge power requirement ranging from 8,000W to 10,000 watts.
The compressor consumes most electricity utilized in a heating system (unless it's an air-to-air heat pump with a variable-speed fan).
There is no requirement for surge watts in such systems. These systems will almost certainly utilize the majority of your available power.
However, running them is significant because you can turn on the air conditioner or heat for a while before unplugging them and using the rest of your home once the temperature has cooled.
If you want to keep the temperature consistent while also utilizing other equipment, a space heater or window air conditioner is probably the way to go.
Meanwhile, ceiling fans consume far less power than conventional home appliances.
Ceiling fan motors typically require around 1,200 watts (1,800 watts of surge power for a window air conditioner).
In comparison, power demands across the rest of your house are likely to be considerably less.

The refrigerator and freezer are the most power-hungry device that most homeowners will want to operate during a blackout, using about 700 watts of running power and 1,200 watts of surge power.
Aside from your personal computer, the majority of daily appliances consume under 1,000 watts:
| Appliances | Rated Watts |
| --- | --- |
| Refrigerator/Freezer | 700W |
| Microwave Oven – 625 Watts | 625-1000W |
| Coffee Maker | 800W |
| Electric Stove | 1500W |
| Dishwasher | 300W |
| Food Processor | 400W |
| Toaster Oven | 1200W |
| Toaster | 850W |
| Iron | 1200W |
| Washing Machine | 500W |
| Clothes Dryer – Electric | 3000W |
| Clothes Dryer – Gas | 700W |
| Light bulb – 60 Watts | 60W |
| Space Heater | 1800W |
| Humidifier | 175W |
| Furnace Fan Blower | 700W |
| VCR | 100W |
| Stereo | 450W |
| TV | 200W |
| Video Game System | 40W |
| Security System | 500W |
| Hair Dryer | 1250W |
| Curling Iron | 1500W |
| Electric Grill | 1650W |
| AM/FM Radio | 100W |
| CD/DVD Player | 100W |
| Mobile Phone Charger | 10W |
| Computer | 800W |
| Laptop | 300W |
| Laser Printer | 950W |
| Fax Machine | 65W |
| Copy Machine | 1600W |
| Airless Sprayer | 600W |
So, a 7,500-watt generator would allow you to power your home like the power never went out.
A 7,500-watt generator can power most of your home appliances during an outage.
It can provide up to 2,000 watts of running power to keep your refrigerator, lights, and sump pump going.
It could power TV, do laundry, and run other appliances without exceeding 4,000 watts of total power use.
This generator can even provide enough power to run a space heater or window air conditioner.
This generator can keep your home comfortable even when the power goes out.
Will a 7500-watt Generator Run My Work Site?
The main benefit of a 7,500-watt generator at worksites is that many people may use power tools simultaneously.
This isn't usually the case with smaller power supplies.
Even though these wattages aren't overwhelming, you must consider surge demands when operating two machines with less than 7,500 watts.
| Appliances | Rated Watts |
| --- | --- |
| Sump Pump | 1140W |
| Water well pump | 575W |
| Heat Pump | 4700W |
| Quartz Halogen Work Light | 300-1000W |
| Electric Drill | 440W |
| Belt Sander | 1200W |
| Air Conditioner | 1000-4000W |
| Air Compressor – 1/4HP | 975W |
| Air Compressor – 1 HP | 1600W |
| Hammer Drill | 1600W |
| Circular Saw | 2100W |
| Chain Saw | 1500W |
| Reciprocating Saw | 960W |
| Bench grinder | 1400W |
| Planer/Jointer | 1800W |
| Electric Leaf Blower | 1000W |
A one-horsepower air compressor and a table saw require at least 6,100 watts of surge capacity to operate simultaneously.
With 7,500 watts, you can run two air conditioners and one or two electric power drills simultaneously.
Buying Guide for 7500-watt Generator
Peak output power
The more devices & tools the generator may start simultaneously, the higher the maximum power output.
Purchasing a generator with high-rated or maximum power output, on the other hand, will be useless if the runtime is short.
The dependable engine
Look for a generator that has a powerful engine and one that is reliable and efficient.
Because the engine is the heart of your generator, it should be cleaned regularly, even when it is not in use.
Stainless steel and powder-coated must be used to protect it from the elements.
Noise Level 
It is critical to examine the noise rating before purchasing it to obtain a decent night's sleep and keep harmonious ties with your neighbors.
A 7,500-watt generator should have a noise rating of 74dBa or less.
Runtime
This is the amount of time a generator can run on single propane or gasoline tank.
The half-load of a generator must be considered first when determining its runtime.
While the execution times of individual generators vary, effective 7500-watt generators have to last up to 16 hours at ½ loads.
Warranty
Good guarantee periods also indicate good quality because they demonstrate confidence in their item.
As a result, be sure the item you buy has, at minimum, a 3-year warranty coverage.
Best 7500-watt Generator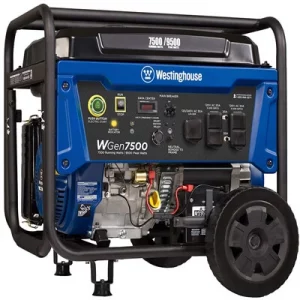 Westinghouse Portable Generator features a long-lasting 420cc Westinghouse 4-Stroke OHV Engine.
This generator has a 7500 peak-watt running capacity for when you need to pull additional power.
So, it is perfect for use in an emergency or for DIY projects around the home.
This 192 Pounds model includes two 5-20R 120V Household Duplex Outlets, one RV-Ready TT-30R Outlet, and one L14-30R 120/240V Outlet.
Power delivery Technology allows the safe operation of sensitive electronics through the generator's management system.
Using a 6.6-gallon steel fuel tank, this 27.2 x 26.1 x 26 inches generator can operate for up to 11 hours at 50% load.
The WGen7500 is also equipped with Intelligent so that you can check volt production at just a glance. Power your sensitive electronics safe when using this powerful generator.
Boost wattage for a short period to meet the starting needs of the equipment.
Plus, it comes with a two-year limited warranty for residential use and a one-year limited warranty for commercial use.
Final words
 In short, if you purchase a 7500-watt generator, rest assured that you can run almost any power-draining appliance in your house.
Run the central AC, heating system, sump pump, dishwasher, refrigerator, washing machine, TV, and lights in the entire house without any hiccups
Furthermore, suppose your plan utilizes a generator to run sensitive electronics like phones, computers, or TVs. In that case, you need a generator with 7500-watt power.
When you need to start up a motor-driven device or appliance with a high surge demand, a 7,500-watt generator gives a massive amount of power.
This generator has enough power to keep the ordinary home functioning smoothly during a power interruption or allow numerous employees to work on a building site simultaneously.