Best Generator under $800 [Top Picks] Updated 2022
Not all generators are created equal. In fact, some are a lot better than others. If you're in the market for a new one budget generator because you don't want to break the bank, then this blog post is for you! Luckily, some best generator under $800 are available on the marketplace.
We've rounded up the some of best generators that are available for less than $800. So whether you're looking for a best inverter generator under $800 during a hurricane, storm or just need to power some tools on a job site, there's sure to be an option here that fits your needs. Keep reading to find out more!
Best Generator under $800: At A Glance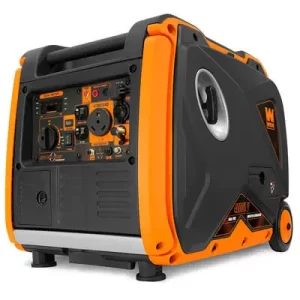 The WEN DF400i is a dual fuel inverter generator that can run on either gasoline or propane. It produces clean energy free of voltage spikes and drops and is very quiet, making it ideal for use while camping, tailgating, or restoring power during an outage.
And it produces 4000 surge watts and 3200 rated watts of power on gasoline, or 3200 surge watts and 2900 running watts on propane.
Moreover, its keyless electric start turns on the generator at the press of a button, and it includes a recoil pull starter as a backup.
The WEN DF400i is also equipped with fuel shutoff, which turns off the flow of fuel and allows the generator to use up the remaining fuel from the carburettor before shutting down. This helps prevent build-up and blockages caused by stagnant fuel inside the carburettor and minimizes maintenance while prolonging the unit's lifespan.
Its built-in wheels, folding handles, and lightweight design make for easy portability. The generator also has an ultra-efficient 2.2-gallon tank that provides up to 8.5 hours of half-load run time.
Also, the fully-packed control panel includes (2) 3-prong 120V standard household receptacles, one RV-ready AC 120V 30A NEMA TT-30R receptacle, one 12V DC receptacle, two 5V USB ports, and an easy-to-read digital fuel and load display.
Beside, you can also maximize fuel economy by engaging the Eco-Mode switch, which allows the generator's engine to automatically adjust its fuel consumption as items are plugged into and unplugged from the panel, preventing the usage of unnecessary gasoline.
The oil access cover is located on the side of the generator for easy oil changes. Easily link up two WEN inverter generators using a WEN Parallel Connection Kit (sold separately) in order to share wattage between multiple units.
Additionally, the included spark arrestor allows for legal use in national parks and campgrounds. This DF400i inverter generator comes backed by a 3-year warranty, a nationwide network of skilled service technicians, and a friendly customer helpline.
So go ahead and take that next step toward true peace of mind by picking up the WEN DF400i Dual Fuel Inverter Generator today.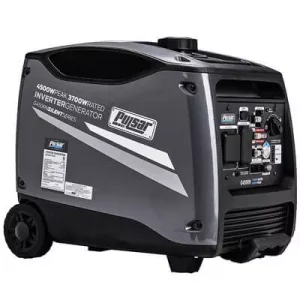 The Pulsar G450RN is a versatile and rugged portable inverter generator that is perfect for any occasion.
However with 4500 surge/3700 running watts and up to 12 hours of continuous operation on just 3.2 gallons of fuel, the G450RN is both a practical and powerful choice for your next outdoor event.
Moreover, Pulsar G450RN also includes a 120V 20Amp duplex outlet, one 120V 30Amp RV outlet, one 12V DC 8Amp outlet, one integrated USB outlet, and parallel sockets, providing you with pure, safe electrical power perfect for cellular devices, laptops, & other sensitive electronics while camping or during a blackout.
Other features include electric push start & remote start, a compact and impact-resistant frame, and never-flat wheels that make storing & manoeuvring this generator a breeze.
Finally, the Pulsar G450RN is CARB approved & is compliant in all 50 States. Whether you are looking for a powerful and reliable source of backup power or just want to be prepared for any eventuality, the Pulsar G450RN is an excellent choice.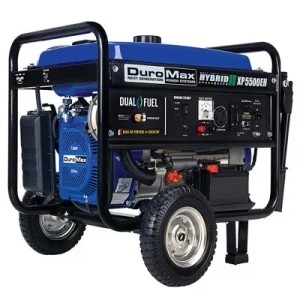 The DuroMax XP5500HX is a powerful generator that can run on either gasoline or propane. It features a digital multi-meter, USB outlets, and DuroMax's exclusive MX2 switch that allows you to harness the full power of the generator by combining the two 19-amp 120-volt circuits into one 38-amp circuit.
However, the generator also features CO Alert Technology that will automatically shut down the generator if unsafe levels of carbon monoxide are detected.
Additionally, the XP5500HX is built using a powerful 210cc OHV-V DuroMax engine and features all copper winding for durability and longevity.
Finally, the fully loaded power panel includes two 120V GFCI household outlets and one 120/240V 30AMP twist-lock outlet.
This makes the XP5500HX perfect for powering a wide variety of devices and appliances in your home or office, camping or tailgating during a power outage. It's reliable, efficient, and easy to use, making it perfect for a wide variety of applications.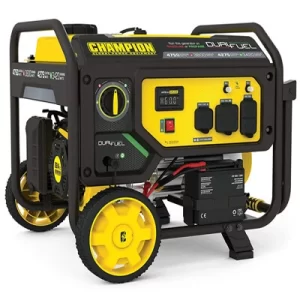 The Champion's 201052 Generator is a versatile and convenient option for powering your home or RV. The unit features an electric start with a battery, plus Cold Start Technology for quick starts in cold weather.
Also, it can run on gasoline or propane and includes a fuel selector switch for safe switching between fuel sources. This Genset uses a Champion 224cc engine to produce 4750 starting watts and 3800 running watts on gasoline, or 4275 starting watts and 3420 running watts on propane.
Moreover, it has a noise level of 68 dBA from 23 feet and comes with Volt Guard built-in surge protector to prevent overloads and keep your equipment safe.
Additionally, the unit includes Intelligauge, which allows you to keep track of voltage, hertz and run-time hours, plus a low oil shut-off sensor.
And it has a 0.6-quart oil capacity (10W-30 oil included). Champion's 201052 features plenty of outlets, including a 120V 30A RV (TT-30R), a 120V 30A locking outlet (L5-30R) and two 120V 20A household outlets (5-20R).
Lastly, the Champion Power Equipment 201052 3800-Watt dual fuel RV ready is EPA certified and CARB compliant and backed by a 3-year limited warranty. It also includes a wheel kit with never-flat tires for easy transport.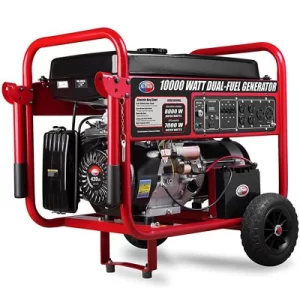 The All Power America APGG10000GL generator is a powerful and reliable option for those in need of a portable power source.
Its 10000-watt peak power and 8000 watts rated power make it capable of handling most household applications, while its 15 HP 420cc OHV air-cooled engine ensures long-running operation.
Additionally, its run time is up to 11 hours at 1/2 load and features a fuel capacity of 8 gallons. The noise level is 76 dB. The generator also features an electric start and recoil start.
Besides, the generator also features 4x AC duplex 120V outlets, 1x 120v twist-lock outlet, 1x 120/240V twist-lock outlet, and 1x 12V DC outlet, making it easy to connect multiple devices.
Moreover, included with the generator are an hour meter, maintenance-free battery, and flat-free wheel kit, making it a complete solution for portable power needs.
Lastly, the All Power America APGG10000GL 10000 watt generator is certified by the EPA, making it a safe and environmentally friendly option. It is a great choice for those in need of a powerful and reliable portable generator.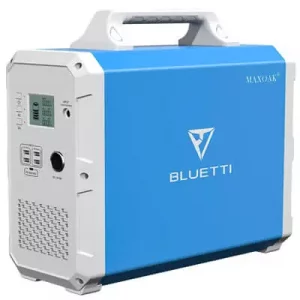 The MAXOAK EB150 is a versatile and powerful portable power station that is perfect for a variety of applications. It is equipped with 1500Wh lithium power storage and with a large AC inverter 1000W; this power station is specially designed for high-power devices such as blenders, drills, and hair dryers (Max. 1000W).
Moreover, it meets various kinds of power needs and is widely used for home use, outdoor activities, RV, etc. The EB150 features two 110V AC outlets for most household appliances under 1000W, such as blenders, TVs, household dryers, and laptops.
It also has a regulated DC12V outlet for car devices like mini-fridges and car vacuum cleaners. Additionally, there is a 45W Type-C USB outlet for USB-C devices such as laptops, MacBook Pros, and PD Type-C phones.
And the cycle life is 2500+, and it is noise-free and has zero emissions. The battery management system (BMS) enables voltage/current control, temperature control, and more advanced safety functions.
Additionally, it has a max input power of 500W and can be fully recharged by two Sp200 200w solar panels within 5-5.5 hours (OCV 16V-68V, SP200 solar panel not included). It can also be fully recharged from an AC wall outlet and generator in 7.5-8 hrs (200W adapter included).
Finally, there are four 5V3A (Max) USB outlets for phones, tablets, cameras, fans, lights, and more. This portable power station also has a built-in Auto-level battery cell for higher discharge rates, lower heat, and safer operation than ordinary battery cores.
FAQs: Best Generator under $800
What are the best portable power generators?
There are different types of portable power generators, each with its own set of advantages and disadvantages.
The most popular type of portable generator is the gasoline-powered generator, which is typically the most affordable and easiest to use. However, gasoline generators can be quite noisy and produce harmful emissions.
Another type of portable generator is the diesel-powered generator, which is more expensive but typically quieter and more efficient than gasoline generators. Diesel generators can also be used to run larger appliances such as air conditioners.
Finally, there are solar-powered generators, which are the most environment friendly but also the most expensive. Solar generators rely on solar panels to convert sunlight into electricity, which can then be used to power your home or business.
What are the advantages and disadvantages of portable power generators?
The main advantage of a portable power generator is that it gives you the ability to generate your own electricity, which can be used in the event of a power outage or other emergency.
Power generators can be used to power tools and appliances while you are away from home, making them ideal for camping trips or other outdoor activities.
The main disadvantage of portable power generators is that they can be expensive and they require regular maintenance. Additionally, portable generators can be very heavy and difficult to move, so you will need to have a safe and secure place to store your generator.