Best Generator under $700 [Top Picks] Updated 2022
If you are in the market and looking for a generator that is affordable and reliable, then you may be wondering: what is the best generator under $700?
In this blog post, our goal is simple: provide helpful information about different best inverter generators under $700 price range, so read ahead and see which option works best with your specific needs.
The market for generators has become increasingly competitive so a low budget generator can't power up your all devices at home. It's important when choosing which one fits your needs best to consider not just price point (the lower end).
Whether you're looking for a generator to use at home or one that can power your portable devices on the go – we've got best portable generators under $700, just what everyone needs!
Best Generator under $700: At A Glance
Hudson HD4500iE: Best Inverter Generator under $700
Ford FG5250PBR: Best Portable Generator under $700
Champion's 200961: Best Dual Fuel Generator under $700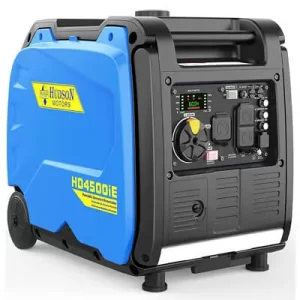 Hudson HD4500iE is a reliable under and budget portable generator for home, job, camping, work truck and job site. This upgraded 4500 generator is equipped with a 224cc OHV engine that delivers peak watts of 4500 and rated watts of 3800 at less than 3% THD.
Moreover, it features integrated casters and a telescoping handle for easy portability, making it perfect for use at home, camping, or on the job site.
And it runs for up to 16 hours at a time on a 2.25 gallon of the gas tank and features "economy mode" for maximum fuel efficiency.
Also its 68dba noise output and electric start technology make it one of the most user-friendly generators on the market.
Other features include two 120V/20A outlets, one 120V/30A outlet, one RV-ready TT outlet, and one 5V 2.1A outlet.
However the Hudson HD4500iE also includes a number of convenient features to help maximize its efficiency and keep you safe while using it. These include low oil alarms and overload alarms, as well as output indicators that let you know when the power is on and when it's time to refuel.
Best of all, all the Hudson Motors portable generators are factory tested for quality, so you can be sure your HD4500iE will be ready to go when you need it.
Lastly, with a 3-year limited service warranty, you can rest assured that your investment is protected. Don't be caught without power during the next big storm – get your Hudson HD4500iE generator today!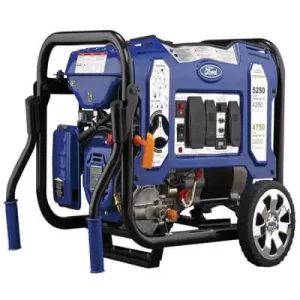 The Ford FG5250PBR is a powerful and durable generator that is perfect for any home, camping or work site. The 5250 surge watt while 4250 running watt ensures that you have plenty of power for all your essential appliances and tools.
The 224cc single-cylinder 4-stroke engine is protected by a heavy-duty steel frame.
Additionally, the generator is equipped with a variety of convenient features, including dual-fuel capability, remote start, and switch & go technology for a seamless transition between gasoline and LPG fuel sources.
Other convenient features include electric push start, and a user-friendly digital display that makes it easy to monitor your generator's performance.
Moreover, it runs for up to 11hrs on a full tank of gasoline (at half load) and comes with a variety of accessories, including a propane hose, funnel, and a spark plug wrench.
Also, it comes with one 120V 30A RV outlet, one 120V 20A outlet, and a 120V/240V 30A twist-lock outlet with rubber dust covers to keep your cords and plugs safe and protected when not in use.
And its digital meter helps you track the generator's runtime and an automatic voltage regulator to maintain consistent power output.
However, the Ford FG5250PBR low shut-off protects your engine from damage, and the generator is also CARB and EPA certified.
Its dual-fuel down cushion grip handles and 8" never-flat wheels make it easy to move and store, making the Ford FG5250PBR a truly versatile and reliable generator that is perfect for any home or work site.
With a 3-year limited warranty, the FG5250PBR is the perfect choice for power on demand.
So if you're looking for a reliable generator that will help you get the job done quickly and efficiently, check out the Ford FG5250PBR today!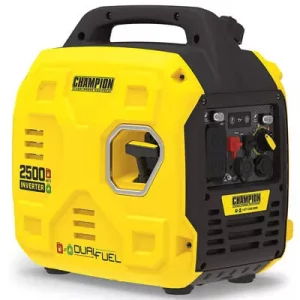 The Champion Power Equipment 200961 is the ideal generator for camping or tailgating. At just 39 pounds, it is one of the lightest 2500-watt dual fuel inverters on the market, making it ideal for travel.
It produces 2500 starting watts and 1850 running watts and will run for up to 11.5 hours at 25% load on a full 1.05-gallon tank of gasoline.
If you're using a 20-pound propane tank, it will produce 2500 starting watts and 1665 running watts and run for up to 34 hours at 25% load.
The 53db noise level means that it can be used without disturbing others, making this an ideal choice for a variety of applications.
It includes 2 covered 120V 20A household outlets, a 12V automotive-style outlet, and a dual-port USB adapter. The unit is also parallel ready, meaning that it can be easily connected to another inverter for increased power output.
This generator is also safe to use, thanks to its low oil shut-off sensor and 0.5-quart oil capacity. Its parallel capability, lightweight, and quiet operation make the Champion Power Equipment 200961 a great choice for a variety of applications.
This feature makes it ideally suited for RV use or other large power needs. Thanks to innovative design features, such as cold start technology and a dual fuel option, this generator is easy and convenient to use. It also produces clean power that is safe for sensitive electronics.
Its EPA and CARB compliance means that it can be used in all 50 states, making it a great choice for a portable generator.
Champion 200961 is a portable, reliable generator that is easy to set up and transport; then the Champion Power Equipment 200961 is an excellent choice. It comes with a 3-year service warranty and free lifetime technical support from Champion's expert service team.
FAQs: Best Generator under $700
What are the best portable generators?
There are a lot of great portable generators out there, but some stand out more than others. Here are our top three picks for the best portable generators explained above.
What are some of the best portable generators on the market?
Here are 3 of the best portable generators under $700 on the market:
Jackery Explorer 240
These three models are all great choices for those in need of a reliable and portable power source. Thanks for the question!