5 Best Budget Generators (Guide and FAQs)
There are a lot of different types of generators on the market, and it can be hard to know which budget generator is the right choice for you.
Also, it could be difficult to find out the best budget generator that performs best and doesn't break the bank because people think that only expensive power generators can perform well.
It's a misconception about best inverter generators that they don't perform as the more expensive ones.
However, this isn't always the case. Some of the best budget inverter generators can be just as good as their more expensive counterparts.
It all depends on what you're looking for and your needs.
So, if you're looking for a generator on a budget, don't just assume that it won't perform like a more expensive model.
There are plenty of the best budget generators out there that can meet your needs and expectations.
Just be sure to do your research before you buy, and you'll be able to find the perfect generator for your needs.
At a Glance: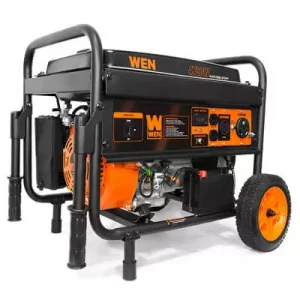 The WEN 56475 generator is a reliable and durable generator that is perfect for any job site or for easy transport.
However, its rugged 223cc OHV engine produces 4750 watts of peak power and 3750 watts of rated power, giving you the ability to run your appliances with ease.
Also, this generator includes two 120V receptacles, a 30-amp 3-prong receptacle, and a 120V RV receptacle, making it perfect for powering your lights, TV, refrigerator, or other essentials.
Moreover, it can run for 10 hours on a full gas tank and includes a spark arrestor for added safety.
Besides, this generator also features a keyless electric start, making it easy to turn on at the press of a button.
The WEN 56475 also includes a spark arrestor, an automatic voltage regulator, and a low-oil shutdown to protect your generator from damage.
Its wheel kit and dual handles make it easy to transport the generator, and the 2-year warranty gives you peace of mind.
WEN 56475 4750-watt generator is a great budget choice for anyone looking for a durable and reliable generator.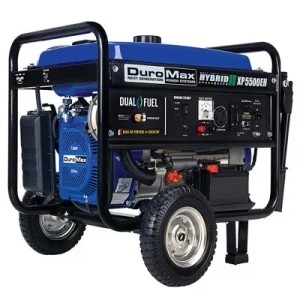 DuroMax XP5500EH is a versatile generator that can handle a variety of tasks.
With 5,500 starting watts and 4,500 running watts, this Genset can easily power lights, a refrigerator, and even a home air conditioner.
Additionally, the dual-fuel technology allows you to choose between gasoline and propane for your fuel source, giving you even more flexibility.
Also, the powerful 224cc OHV engine is perfect for powering high-voltage appliances or heavy-duty power tools, and the MX2 technology ensures that you get the maximum power from each of the 120-volt receptacles.
And it includes 120V & 240V compatibility so that you can use it for various applications.
It has (2) 120V household GFCI outlets and (1) 120/240V 30A twist-lock outlets.
Moreover, the fully-featured power panel includes a wide selection of outlets, as well as a voltmeter and 12V DC charging ports, making it easy to keep your devices charged and ready to go.
Finally, whether you need a reliable power source for your home or your business, the DuroMax XP5500EH is an excellent budget inverter generator.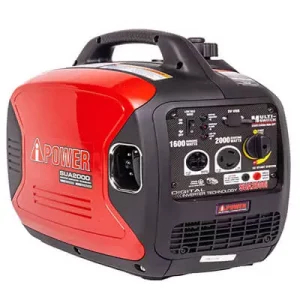 The A-iPower SUA2000iV is a great choice for those who need a reliable and efficient power source.
With 2,000 starting watts and 1,600 running watts, it can handle even the most sensitive electronics with ease.
Moreover, its low idle technology makes for extended run times of 4 hours at 100% load and 7 hours at 50% load keeping your generator running smoothly for years to come.
Besides, the 79cc OHV 4-Stroke engine provides plenty of power, while at only 52 decibels, it runs incredibly quietly – perfect for camping or tailgating.
Also, at only 48 pounds, the A-iPower SUA2000iV is lightweight and compact, making it easy to take with you on your next tailgating or camping trip.
Additionally, the low oil alert light and low oil automatic shutdown help keep your generator in top condition for years to come.
Lastly, whether you need a dependable power source for your home or your next outdoor adventure, the A-iPower SUA2000iV is a great option.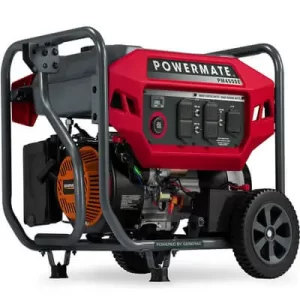 The Powermate P0081300 is a great choice for a portable generator. It is durable, compact, and easy to transport.
With 4500 starting watts and 3600 running watts, this generator is powerful enough to run small electrical appliances at any picnic, campground, or tailgate.
Moreover, the PM4500E is equipped with features that make using the generator easy and approachable.
The PM4500E features a one-touch electric start with auto-choke that provides reliable, hassle-free start-ups.
Additionally, the 224cc Generac OHV engine provides consistent power for multiple applications, while a 5-gallon fuel tank delivers up to a 20-hour runtime at 25% load.
Finally, whether you need it for around the house or your next DIY project, the Powermate P0081300 is a great choice.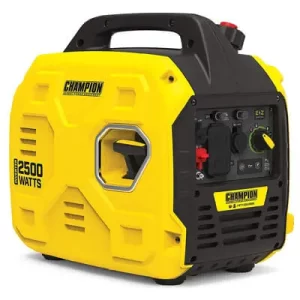 The Champion Power Equipment 200951 is a great option for those who need a reliable and efficient way to power their house or devices while on the go.
Its 79cc Champion's engine produces 1850 running watts while 2500 surge watts, making it capable of powering most household items and devices. The runtime on a full gasoline tank is 11.5 hours at 25% load.
It is parallel capable, meaning you can connect it to another unit for even more power if needed.
The Champion 200951 also has many safety features, such as a low oil shut-off sensor and a 0.5-quart oil capacity.
It includes 2 covered 120V 20A household outlets, a 12V automotive-style outlet, and a handy dual port USB adapter – meaning you can easily power your phone, laptop, or other devices.
This inverter also features Champion's innovative Inverter Technology, which includes smart Economy Mode making it a safe and reliable choice.
This model is also EPA-certified and CARB compliant, making it a great choice for those looking for an eco-friendly option.
The Champion Power Equipment 200951 comes with a 3-year limited warranty and free lifetime technical support, making it a great choice for anyone needing a reliable and durable portable inverter generator.
This unit is perfect for camping, tailgating, or powering items around the RV.
It has plenty of features that make it a great choice for anyone looking for a portable inverter generator.
Shopping Tips: Best Budget Inverter Generators
If you're looking for a generator on a budget, you should keep a few things in mind.
Power Requirements: First, think about how often you'll be using the generator.
If it's only for occasional outages and not camping or tailgating, then make sure to get one that has lower power requirements so as not to cost too much money!
Easy to Use: Second, you'll want to think about how easy the generator is to use.
Some generators are very complicated, and you'll need a lot of experience using them. Others are much simpler, and even a beginner can get their hang quickly.
Noise Level: Third, you'll want to think about how loud the generator is.
Some generators can be very noisy and may not work well in quiet environments since they make some noise themselves when running or starting up.
In contrast, others will operate quieter so that your use doesn't disturb anyone else around you (or even worse – cause them headaches).
Portability: The size and weight of your generator are important factors in where you'll store it, as well as how quickly you can get from point A to B.
Some generators are very large, which makes them difficult or impossible to transport if they're not outdoors with plenty of room on site for parking.
Meanwhile, lighter ones can be taken anywhere easily without needing extra space around their placement location.
Keep these things in mind when you're looking for the best budget generator for your needs.
Final Verdict
A budget can be used to compare different generators, find the best deal, and prioritize which generator will be most beneficial for your needs.
The best budget generators are those that produce the most electricity without any false promises.
Following these simple tips, anyone can generate their own power without breaking the bank.
FAQs: Best Budget Generators
Are there any drawbacks to using a portable generator?
While there are many benefits to using a portable generator, there are also some drawbacks. One potential issue is that portable generators can be quite loud and produce exhaust fumes, which may make them unsuitable for certain applications.
In addition, they typically have smaller fuel tanks than larger stationary models, which may require more frequent refueling.
And finally, portability can also come at the cost of power output and reliability, making it important to carefully consider your needs and compare different models before making a purchase.
Overall, while there are some potential downsides to portable generators, they are generally an excellent choice for those looking for reliable backup power on the go.
What should I do if my generator won't start?
If your generator does not start, there are a few possible causes. You may need to check the fuel level or replace the spark plugs.
If the engine is making noises or emitting strange odors, it may be a sign of damage or other issues that require professional repair.
How do I care for my generator?
These include regularly checking the oil level, air filter, spark plugs, and manufacturer's instructions.
Always store fuel in a safe, dry place, and never run the generator while it's low on fuel.
What types of generators are available?
There are several different types of generators on the market today, including portable gas generators, inverter generators, solar generators, and propane generators.
Each type has its own set of pros and cons, so be sure to do your research before making a purchase.
How much does a generator cost?
Generations' prices can vary greatly, depending on the type, size, and features you choose.
Portable gas generators typically start around $500, while inverter generators can cost upwards of $1,000.
Solar generators are typically the most expensive option, starting at $2,000.
How do I use a generator safely?
Read the instructions in the manufacturer's guide carefully before operating your generator.
Never run a generator indoors or in an enclosed space, as this can lead to carbon monoxide poisoning.
Always keep the generator dry and well-ventilated, and never overload it.
What are some common problems with generators?
The most common problems with generators are engine troubles, fuel issues, and electrical problems.
Always make sure you have fresh fuel in your generator and that the engine is properly lubricated.
If you're having trouble with your generator, consult the owner's manual or contact a qualified technician for assistance.