Best 4000-Watt Inverter Generators (Guide)
The most important aspects you need to know for picking a generator are its engine power, runtime, fuel consumption, and efficiency.
All the generators are not designed equally. They provide different levels of wattage.
If you are into outdoor camping, hunting, or boating and you need a long-running portable power source, you must check for the best 4000 Watt inverter generators.
There exists a variety of 4000-watt generators in the market
Thus, we kept in mind your concerns and reviewed our best pick in this regard.
At a Glance:
So without any due, let's begin!
Best 4000 Watt Inverter Generators Comparison
Best 4000-Watt Generators
Best 4000-Watt Generator for Home Use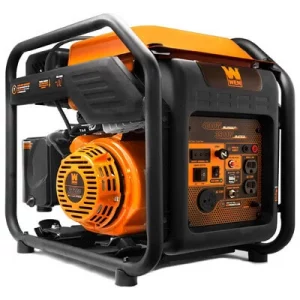 The WEN GN400i generator is the best 4000-watt generator for home use with 4 strokes 212 cc engine.
Its dimensions are 19.8 x 13.8 x 18.9 inches. Thus, it appears like a compact package.
It provides a surge power of 4000 wattages and runs power of 3500 wattages.
The engine is CARB-compliant, which means it has been certified by the California authority for fuel efficiency and cutting harmful emissions.
Moreover, the WEN company has placed overhead valves (OHV) above the combustion chamber in the engine's cylinder, which is why the engine is fuel-efficient.
The generator is slightly lightweight (just 66 pounds) to take to the outdoors or camps.
However, in case of additional power, the generator is able to connect with other WEN generators.  
This model may connect a variety of appliances like TV, mobiles, tablets, portable fans, electric stoves, heaters, coffee makers, chillers, etc., as it provides 2 120V NEMA 5-20R receptacles, 2 5V USB slots, and 1 120V RV-ready TT-30R receptacle.
It is the best inverter generator for under $1000. It proved to be very much comfortable to us in terms of its long runtime and fuel optimization.
We must rate it 5/5 for power outputs, noise level, ease of use, and maintenance, and 4/5 for carrying.
We found it a bit heavier but managed it well. The generator was super quiet as its noise level was just 52 decibels (lower than the level of a human conversation).
The WEN GN400i generator is best for in-home and long outdoor activities like camping, hunting, picnicking, tailgating, and ice-hikes tours.
However, it is somehow expensive, but it ensures the value of your spending!
Best 4000-Watt Quiet Generator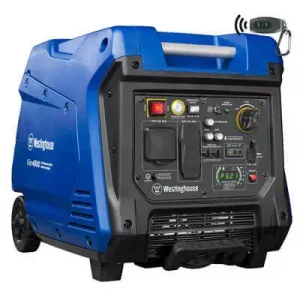 The Westinghouse iGen4500 is the best 4000-watt quiet generator.
Its running watts are 3700, and its peak watts are 4500. It features a telescoping handle, is gas-powered, and remote start with the included key fob.
It also is recoil and electric start. It is fuel-efficient and extremely quiet, with as low as 52 dBA noise output.
It comes with TT-30R 30 amp outlet and 2 USB outlets. The 2 USB outlets make charging smartphones or tablets extremely easy.
It is a gas-powered RV-ready generator. iGen4500 is EPA and CARB-compliant. For easy storage, it comes with a telescoping handle.
Its 4500 peak wattage is enough to run all your essentials, and it can also run for 18 hours on a gas tank of 3.4-gallon.
The iGen4500 generator features "economy mode," which will maximize the fuel efficiency of running this generator all day.
Its digital LED control panel shows the fuel level, remaining run time, lifetime hours, power, and voltage output.
The Westinghouse iGen4500 is backed by a 3-year limited warranty, service, labor, parts coverage, and a nationwide customer service network.
The Westinghouse iGen4500 Generator is best for apartments, camping, tailgating, hunting, etc. Its quiet and long-lasting run time makes it the best generator for any occasion.
Best 4000-Watt Inverter Generator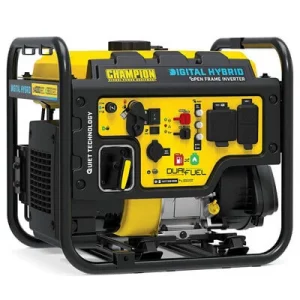 The Champion Power Equipment 100302 4000-Watt is the best 4000-watt inverter generator.
It's a great choice for anyone looking for a quality generator. Its starting watts are 4000 and running watts 3500.
With a 64 dBA noise level, this generator is perfect for RVs, tailgating, projects, or home backup.
It also has a 120V 30A RV outlet, two 120V 20A household outlets with clean power (less than 3% THD), and a 12V DC outlet with a dual USB adapter.
The Champion Power Equipment 100302 4000-Watt generator is parallel-ready so that you can increase your power output with the optional Parallel Kit.
It includes Oil Funnel, Battery Charging Cables, and USB adapters, making it very easy to use this generator.
It's backed by Champion support, which includes a 3-year limited warranty.
The Smart Throttle feature saves fuel by automatically adjusting engine speed to match the load, while Economy Mode saves fuel by automatically adjusting engine output to the lowest power setting.
It has a push-button start, which lets you get back to work fast. It also features an automatic low oil shut-off and overload protection with a reset button.
The Champion Power Equipment 100302 4000-Watt generator comes with an alloyed steel tube cradle, side panels, and handles that provide great durability and strength.
It also has twin front-mounted wheels and a stand that provide easy transportation from job site to job site; plus, it keeps your generator off the ground and protects it from moisture and dirt.
The Champion Power Equipment 100302 4000-Watt generator is very powerful, durable, and reliable.
It's best for power outages during hurricanes, disasters, campsites, job sites, and more.
Best 4000 Watt Dual Fuel Generator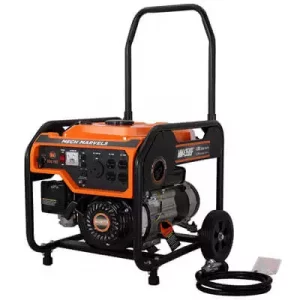 The Mech Marvels MM4350DF Portable Generator is the best 4000-watt dual-fuel generator.
It's a powerful and versatile piece of equipment that can come in handy in many situations.
It features a 4,000 surge watt and 3,200 rated running watt capacity, making it ideal for powering whole-house appliances and power tools.
The generator is dual fuel and can also run liquid propane or gasoline fuel, giving you flexibility while out on the road or during an emergency.
A 7 HP 212cc 4-stroke OHV engine is used, giving you the flexibility to use gasoline or liquid propane fuel.
At 50% load, MM4350DF can run for up to 10 hours on full gasoline or LP Cylinder tank. It also includes (4) 120-volt outlets, (1) 120-volt RV outlet, and (1) 12-Volt DC outlet; regulator hose kit included.
A regulator and battery charger are also included with the machine. The generator has a recoil start, making it easy to use.
It's best for; small homes, construction sites, trucks, emergency applications, camping and recreational vehicles, boats, cottages, or cabins.
Best 4000-Watt Generators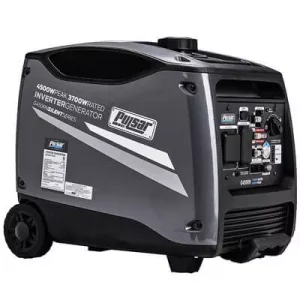 The Pulsar Products G450RN 4500W is the best 4000-watt generator.
The run time of Pulsar may vary depending on load and fuel level. 4, 500 watts surge / 3,700 watts continuous.
This generator can run up to 15 hours of extended operation at half load on 3.2 gallons of fuel.
Its 63 dB quiet operation makes it possible to have conversation 10 Feet away.
Plus, the compact design with an extendable handle and never-flat wheels makes it easy to transport and store.
It offers protection against low oil shutdown, overloads, over-temperature situations, and high or low voltage.
It comes with 5 Year Warranty on the engine and alternator and 2 Year Warranty on the control panel.
Pulsar's G450RN, 4500W generator provides reliable power for campers and people on the go.
It is an excellent choice for anyone looking for an affordable and reliable generator.
Best Price 4000 Watt Generator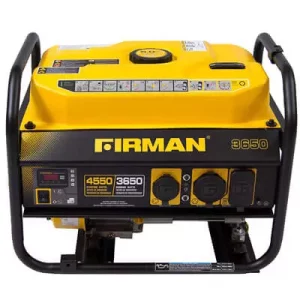 The FIRMAN 4550/3650W Recoil Start Generator is the best price 4000-watt generator.
It is an excellent choice for those who need a reliable power source. With a max wattage of 4550 and a running wattage of 3650, this generator can provide power for 14 hours.
The Phoenix Fat Head Block engine is designed for enhanced efficiency.
The Whisper Series Muffler is also a great feature that keeps things quiet without sacrificing horsepower.
The Volt Lock Automatic Voltage Regulator ensures consistent power delivery, while the 4-in-1 Data Minder keeps track of volts, hertz, hours, and low oil indicators.
The 5 Gallon Fuel Tank is an excellent feature for this generator because it helps to keep everything running longer.
The generator also comes with an integrated fuel gauge, as well as multiple outlets, including (1) TT-30R (RV Ready) 120V – 30A, (1) L5-30R 120V – 30A Twistlock, (2) 5-20R Duplex 120V – 20A.
The generator also has three running speeds that allow you to choose your ideal noise level vs. power, which is a nice feature.
The entire package comes with the generator itself, accessories including oil, spark plug wrench, and shipping bracket wrenches, as well as a manual.
It also features a legendary 3-year warranty service, covering all parts and labor.
The FIRMAN 4550/3650W generator is fine for powering essential appliances such as small fridges and lamps or charging smaller items.
According to the manual, it can be used to charge larger devices if they are turned on and off frequently.
Best 4000 Watt Generator for Camping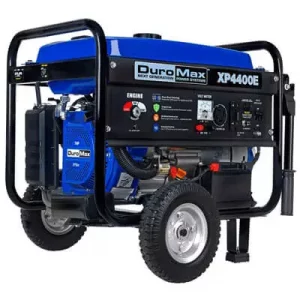 The DuroMax XP4400E Gas Powered is the best 4000-watt generator for camping.
It is a great generator for anyone who needs a lot of power. The powerful 4,400 starting watts and 3,500 running watt engines mean that this unit can handle heavy loads with ease.
It also has a powerful engine that can handle multiple jobs and MX2 Technology that provides maximum power from the 120-volt receptacles.
The low oil shutoff protects your investment and automatically shuts the generator off when it senses that the oil is low.
With the power panel, you can be sure that your home will have all it needs for any application.
With 2 120V household GFCI outlets and 1 outlet compatible with both 120-volts or 240-volt AC at 30 amps per second (A), there are no limits on what kind of equipment this handy device could handle!
It also includes a voltmeter and 12V DC charging ports for charging external batteries. The unit has a 210cc OHV engine with low oil shutoff for added protection.
Duromax XP4400E is best equipped to handle your power needs, such as powering electric tools, cooking appliances, and other electrical devices.
It's best for outdoor activities like trucking, camping, tailgating, hunting cabins, van life or other outdoor activities.
Best 4000-Watt Inverter Generators FAQs
What is the best 4000-watt inverter generator?
A best 4000-watt generator is a power-generating device capable of producing up to 4000 watts of electrical power.
The best 4000-watt generator can run most household appliances, refrigerators, ovens, devices, etc.
But it can't run the air conditioner.
Do not expect it to power your home with all the appliances running simultaneously.
Can I use my gasoline to operate a 4000-watt portable generator?
Yes, you can if you are using an inverter generator or modified sine wave generator.
How much does a portable 4000-watt generator cost?
A best 4000-watt generator might cost between $400 to $3000 depending upon the product's quality, type, and brand.
Why would someone need the best 4000-watt generator?
The 4000-watt generator can be used for various purposes, including powering homes in power outages.
One common use is running tools and equipment at job sites – this kind would also make sense if you have some heavy-duty machinery that needs constant maintenance!
It's important to note, though; these shouldn't just serve as backups during emergencies because they don't produce enough energy capacity when compared with other types (like battery-operated)
Where is the best 4000-watt generator most commonly used?
Commonly, a 4000-watt generator would be used at homes or small businesses to provide backup power during emergencies such as severe storms or power outages.
Final Verdict
4000-watt generators are a great investment for people who need to power their homes with electricity during an emergency or power outage.
They generally cost more than smaller models, but the additional features may make them worth the price if you don't have access to natural gas in your area.
One of your great concerns about visiting outdoor activities is the electricity supply in remote areas.
You need a 4000-wattage portable and inverter generator to satisfy the electric supply for long-running.
Thus, we have tested and reviewed the best 4000 Watt inverter generators in various aspects.
You Might Also be Interested in the following: