Best 15000 watt Portable Generators, (PURE POWER)
Suppose you need a powerful portable generator but don't have $10000 to spend on a whole-house generator.
In that case, the best 15000-watt portable generators (Amazon) are the best option.
They are also ideal for running power tools at a construction site, where you can't afford delays due to a lack of a reliable supply of electricity.
Bob Cyber, a mechanical engineer from Canada, says the best 15000-watt inverter generators are excellent for most apartments or households that need to keep the power on during outages.
This article is created for those who don't want to invest $10000+ on a whole house generator but need a powerful one for their off-grid worksites, work trucks, van life, or home backup power.
Best 15000-watt Portable Generators
If you are looking for a 15000-watt generator that is portable, budget-friendly, and reliable, then your search should end here.
So, let's analyze the best 15000-watt inverter generators.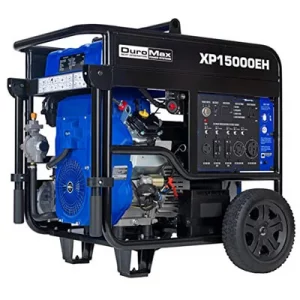 Specifications: Brand DuroMax | Wattage 15000 watts | Color Blue, Black | 33 x 30 x 35" Dimensions | Weight 380 Pounds | 4 Stroke Engine | Frequency 60 Hz
The DuroMax 15,000W Blue, Black Dual Fuel Generator offers maximum versatility and high performance.
Moreover, it has a durable 33 x 30 x 35 inches DuroMax 18HP, 457cc OHV engine with an electric start.
Additionally, this 380 Pounds XP15000EH the best 15000-watt inverter generator, is a dual-fuel generator that can run efficiently on gasoline or propane.
Equipped with a 4 strokes Engine and heavy-duty frame, this generator is built to withstand the most rugged conditions.
Thus, this 60 Hz versatile unit allows you to run it at 120 or 240 volts.
Changing the voltage output is as simple as squeezing the levers near the control panel and turning a dial.
Plus, the 15,000-peak wattage with 120 Volt receptacles provides maximum power when you need it most. 
In addition, this Duromax is one of the largest generators you can buy without stepping up to an industrial standby or PTO-driven generator.
These 12,000 running watts and 15,000 peak watts units offer up to 8 hours of run time on gasoline and 6.5 hours on propane.
Shopping Tips: Best 15000 watt Inverter Generators
Types of generators to think about
Dual-fuel vs. single-fuel: Single-fuel generators are widely used and are frequently powered by gas.
Dual-fuel variants are also available, which run on both gas and propane.
Portable vs. standby: This article's generator is portable.
These generators are lighter and more portable, and they are employed as a backup power supply in emergencies.
And from the other hand, standby generators are costly, powerful, and frequently used as permanent units.
Size of generator
When it comes to selecting a good and compact size generator, the kind of space you have around your home is crucial.
It's all perfect and perfect for getting a big, powerful one, but what good is it supposed you don't have anywhere to place it?
Even though they have the same capabilities, some have a smaller area.
So, double-check the manufacturer's dimensions to ensure your selection will fit precisely where it's supposed to go. 
Total runtime & fuel efficiencies
Portable generators with gasoline tanks ranging from eight to eleven gallons are available.
At 50 percent of the overall load, these should provide you with 7- 10 hours of runtime.
The 15000 Generator has a 16 gal tank and can run for 10 hours at 50 percent of the overall load.
Easy-to-use functionalities
The top 15000-watt generators have the following user-friendly functionalities:
A voltmeter is used to keep track of the outputs.
For mobility, there are wheels.
For trouble-free operation, use the electric start.
Carrying handles are included.
Working capacity 
A 15000-watt generator can power the following devices simultaneously: an air conditioner, a fridge, a pump system, a dryer, a toaster oven, a washer and dryer, lamps, a computer, a flat-screen television, as well as an espresso machine.
It has little trouble powering large residences, apartments, and moderate offices.
Use the generator size calculator to figure out how big a generator will need.
FAQs: Best 15000 Watt Portable Generators
Will a 15000-watt generator run a whole house?
A 15,000-watt generator is one of the highest outputs in a portable generator. It can run an entire home.
It's often used on construction sites or in other settings with high power demand.
This type of generator is expensive. If you have a 15,000-watt generator, it will run your whole house if you have an appropriate circuit breaker to protect against overloads.
Final Verdict
In short, we have reviewed the best 15000-watt portable generators for people who want a powerful generator.
Furthermore, it can power almost any tool on the Jobsite and most of your home appliances.
For those looking for a dependable and versatile generator for their home and work, the DuroMax XP15000EH Portable 15000-Watt Generator is ideal.
This machine features an electric start that makes it easy to get going.
You Might Also be Interested in the following: