The 4 Best 1000 Watt Inverter Generators
Keep in touch with the entire world with the best 1000-watt inverter generators and enjoy the colors of life and nature in the mountains.
Whether camping in the mountains or staying at home, your appliances will still work with this inverter generator.
Moreover, this best 1000-watt inverter generator can run necessary appliances under unscheduled power outages too.
Several factors are considered important when testing the top-quality and best 1000-watt inverter generator.
After testing multiple inverters, we found a few premium quality inverters having all the ideal features. Go through these reviews and get one of them for you as well.
At a Glance:
Without any delay, let's begin!
Best 1000-Watt Inverter Generators Comparison
Product
Starting Watts
Running Watts
Runtime
(on 25% load)
Noise Level
2000 W
1600 W
9 hrs
51 dB
2200 W
1800 W
18 hrs
52 dB
1000 W
900 W
7.1 hrs
42 dB
1200 W
900 W
7 hrs
49 dB
Best 1000-Watt Inverter Generators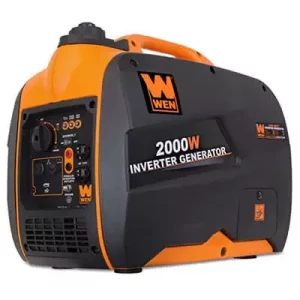 Wattage: 1600-2000 watts | Tank Volume: 1.1 Gallon | Power source: Gasoline | Voltage: 120 Volts | Fuel Type: Gasoline | Engine type: 4-stroke 79.7cc OHV | Runtime: 9.4 Hours Quarter-Load | Noise: 75 dB | Outlets: 4 | Warranty: 2 Years | Prongs: 3 | Size: 18″ x 11″ x 18″
Don't forget to take this power source with you if you leave for a campsite.
We used the WEN 56200i 2000-Watt Gas Powered Portable Inverter Generator for emergency power during a camping trip, fishing trip, or boating.
This inverter is known for supplying power and keeping appliances running whether you are tailgating, in the office, or at home.
We found that it's pretty amazing features made it one of the best converters. When 
Firstly, its eco-mode feature makes it unique among other inverters.
By automatically adjusting fuel consumption, this mode will prevent unnecessary gasoline consumption.
Furthermore, the Eco mode extends the life and runtime of the engine, along with fuel adjustments.
Many customers reviewed that it can also be used as power assistance when connected together via the parallel kit.
In addition to doubling its total wattage, it also provides enough power to run maximum appliances. 
Moreover, it provides quite a noise-free operation and clean power generation, with low distortion, making it a reliable power source.
In addition to its 3-in-1 switch, it provides the following features that make it easy to use even for beginner users: Off, On, or Choke options.
Beginners will find it easier to operate this device if it has a 5V USB port and indication lights that indicate output, overload, and oil levels. 
In addition, it is fuel-efficient and pretty affordable, which is enough for an individual.
This inverter generator has a 12-volt DC outlet for charging batteries. 
Thanks to its compact and lightweight design, it can easily be moved around on a campsite, construction site, power outage, or Jobsite.
Apart from that, it's marked safe for sensitive electronics such as refrigerators, fridges, mobile phones, laptops, tablets, etc.
Moreover, the 2000 surge watts and 1600 rate watts produced by its engine can power all home appliances. 
In brief, if you are in need of an affordable inverter generator with maximum features that supply energy without noise, then this WEN 56200i Inverter Generator is an ideal choice to go with.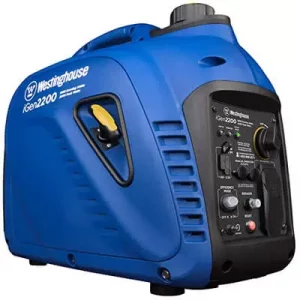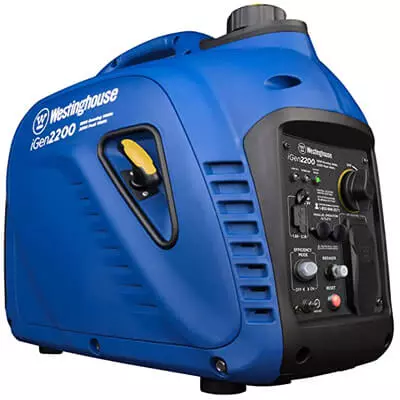 Wattage: 1800-2200 watts | Tank Volume: 1.18 Gallon | Power source: Gasoline | Voltage: 120 Volts | Fuel Type: Gasoline | Engine type: 4-stroke | Runtime: 12 Hours | Noise: 52 dB | Outlets: 4 | Warranty: 2 Years | Prongs: 2 | Size: 19.8″ x 11.4″ x 17.9″
If you're looking for a portable generator that's both super quiet and fuel-efficient, the Westinghouse iGen2200 Super Quiet Portable Inverter Generator might be just what you need.
The starting watts is 2200, and it varies between 1800 (75%) and 1600 (50%). The maximum running watts is 1800.
iGen2200 has a good fuel economy – 12 hours at 50% load and around 18 hours at 25%.
It is perfect for camping, tailgating, or power outages. The best part is that it operates at just 59 decibels, so you won't have to worry about disturbing your neighbors or anyone else nearby.
But don't let its small size fool you – the iGen2200 is capable of generating up to 2200 watts of power, making it perfect for powering most household appliances.
On top of all that, it's also CARB-compliant, meaning it'll work perfectly in California and other states with strict emissions regulations.
The most noticeable difference compared to the other generators is this model's engine sound. While it still can make some noise, at 50% load, it's less than 52dB (decibels).
This makes this device one of the quietest inverter generators you can find.
Another reason for this gen to be so popular among customers is that it comes with a 2-year warranty.
iGen2200 has a full power panel that gives you access to 120 V outlets(1), USB ports (2), and 12V DC outlets.
These are all located within easy reach, and they are covered with a rubberized dustproof cover.
iGen2200 comes with two 2-prong 120V household outlets for powering your appliances or electronic devices directly from the generator.
We can say that Westinghouse iGen2200 is one of the most efficient generators on the market. It will be more than enough for all your needs regarding power sources and equipment connected to it.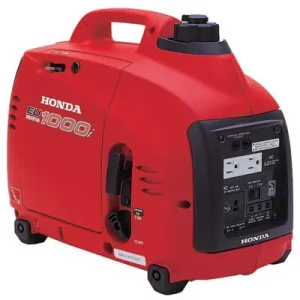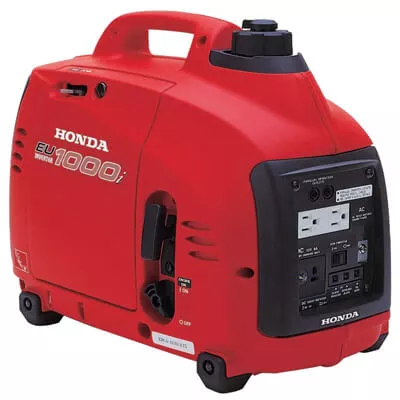 Wattage: 800-1000 watts | Tank Volume: 1.1 Gallon | Power source: Gasoline | Voltage: 120 Volts | Fuel Type: Gasoline | Weight: 29 Pounds | Engine type: Honda 4-stroke | Runtime: 6 Hours on 25% load | Noise: 59 dB | Warranty: 2 Years | Size: 20″ x 16″ x 12″
Honda EU1000i runs at 42 decibels, which is similar to the sound level of a normal conversation.
The noise from this generator will not interfere with television or radio programs.
The Honda EU1000i, a 1000-watt inverter generator, is a very quiet generator that operates between 42 and 48 decibels. Lightweight and mobile at 29 pounds.
Honda EU1000i 1000 Watt Inverter Generator is ideal for powering small appliances, electronics, and household items. It's best for fishing trips or boating.
The Honda EU1000i portable generator has 120 volts and a 60 Hz single-phase fill power rating. It can run at 25% of full power for up to 7.1 hrs.
The EU1000i generator is equipped with a recoil start and has an eco-display that shows you how efficient your operation is.
Honda Generator uses a 4-stroke overhead valve engine with SOHC, which provides quiet, fuel-efficient power in a compact design.
This is an inverter type of generator, meaning it produces power that matches the electrical demands of your devices -no humming or buzzing sounds, no fluctuations in voltage.
It's ideal for TV, lights, fans, small power tools, and more on camping trips, power outages, and home improvement projects.
The Honda EU1000i inverter generator has many positives, including being lightweight with a low noise level and an easy start machine that doesn't require priming or choke pulling when starting it up for us!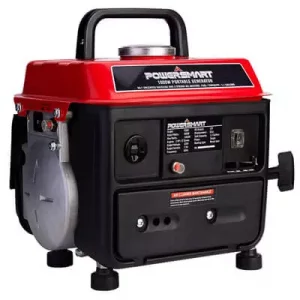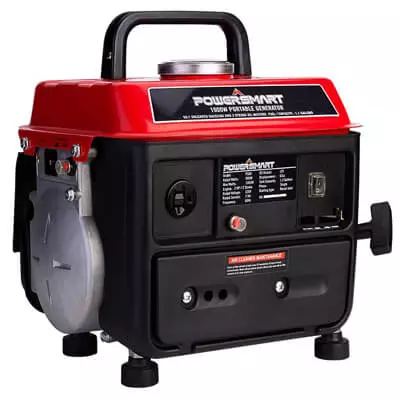 Wattage: 900-1000 watts | Tank Volume: 1.1 Gallon | Power source: Gasoline | Voltage: 120 & 240 Volts | Fuel Type: Gasoline | Weight: 39 Pounds | Engine type: 63cc, 2HP 2-stroke engine | Runtime: 5 Hours on 50% loadd | Warranty: 2 Years | Size: 16.5″ x 16.42″ x 14.45″
Do you need a portable generator that is both reliable and durable? Look no further than the PowerSmart Generator.
This outdoor generator is perfect for campgrounds, construction sites, and mobile devices.
This generator is different from other generators because it is lightweight. It has a 2HP engine provides 1200 surge watts and 900 rated watts.
It's easy to assemble, pull, start, and use – perfect for your daily needs.
The 120V household outlets and 12V DC outputs make it perfect for powering sensitive devices like laptops, phones, and other electronics. It's best for small camping trips.
Moreover, the PowerSmart generator also contains low-decibel technology. Its 42 dB noise level makes it ideal for a quiet environment.
This generator contains a full fuel tank of 1.1 gallons and can run for 7 hours at 25% load.
PowerSmart provides great value and premium service to all of our customers by offering 2 years warranty with every purchase along with friendly customer service.
Well, this gas generator has a 63cc 2HP, 2-stroke gas engine.
This gas generator is lighter than other generators with the same power output, weighing only 39 lbs.
Lastly, the Power Smart portable generator is a great choice for people who need power outdoors.
This generator is strong and can handle multiple jobs at the same time. It's perfect for campgrounds, construction sites, and when the power goes out.
FAQs: Best 1000-Watt Inverter Generators
Are inverter generators worth the money?
Inverter generators are more expensive than traditional generators.
They are a good option if you need to use the generator in an area where there is a power outage.
Inverter generators tend to be more efficient, run for longer on less gas and be quieter because they don't need to run constantly at the same speed.
You Might Also be Interested in the following: